I propose an idea... A cooking guide of different foods and snacks for while you watch your favorite horror movie or to cure hunger while making lengthy write ups on this forum. :evilpumpkin:
The first post in this series will be a classic recipe of rolled sugar cookies with your favorite slasher's face on them....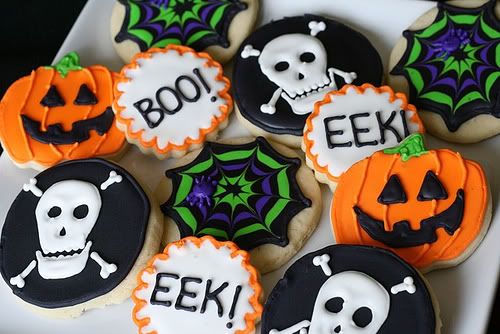 Lets get started...
Ingredients
2/3 cup butter, softened
3/4 cup granulated sugar
1 egg
4 teaspoons milk
1 teaspoon vanilla extract
2 cups all-purpose flour
1-1/2 teaspoons baking powder
1/2 teaspoon salt
Your choice in icing for 3 dozen cookies(sizes of icing may vary)
*(Icing depends on what kind of face you're doing... if you're doing Michael Myers or Jason Voorhees, buy and make a large amount of uncolored icing and get individual ready to use icing tubes with the colors that you'll need)*
Directions
1. In a large bowl, with mixer at medium speed, cream butter and sugar until light and fluffy. Beat in egg, milk, and vanilla. Blend in flour, baking powder, and salt until well mixed. Divide dough in half and chill 30 minutes.
2. Preheat oven to 375°F. Grease 2 large cookie sheets. On a lightly floured surface, working with half of the dough at a time, roll 1/8 inch thick. With floured cookie cutters, cut dough into shapes. Using a metal spatula or pancake turner, place cookies 1/2 inch apart on cookie sheets. Reroll trimmings and continue to cut shapes. Bake 8 minutes, or until very lightly browned. Transfer cookies to racks to cool completely.
3. Transfer from rack to plate. Ice the cupcakes and make smooth with a knife. Add as much or as little detail as you want with small tube of coloured icing.
4. Enjoy! :imcrazy: :plastered: :ME LIKES:
http://www.readersdigest.ca/food/recipes/cookies/basic-sugar-cookies