For some reason, it seems fashionable these days to trash the long-running tv show based on the 1992 film of the same name, Buffy the Vampire Slayer. I don't personally understand the sudden turning on series and can say, without hesitation, that I was and am a huge fan of the show.
Throughout the series, Buffy faces down weekly evils interspersed between storyline carrying big bads that wreak havoc on the daily lives of the title Slayer and her faithful Scoobies. Though each villain carries with them the threat of pain and death, some big bads were just a little bigger and a little badder than all the others, and just a bit more difficult for the Slayer to face - whether alone, or with her friends at her side. I've compiled a list of what I consider to be the worst villains and hardships the Slayer was forced to face down in her tenure. So without further ado, here goes:
The Master is representative of everything the young Buffy had to fear. She was a high school sophomore; he was an impossibly old, impossibly evil master vampire intent on raining hell down on Sunnydale. The Slayer had come to Sunnydale by chance, hoping to start fresh; instead, she is pulled into the Master's plan to free himself from his subterranean prison and learns that a prophecy exists, stating that she will die in her attempts to thwart him. Frightened, angry and grief-stricken, Buffy truly faces down her own mortality for the first time, when the fate of the world rests in her decision to give her own life in sacrifice.
#2 TIE: Gachnar & Nightmares
"The only thing we have to fear is fear itself"; a quote heard so often that it can be repeated at will is nonetheless very true. On more than one occasion in the series, Buffy is forced to deal not only with her own fears, but those of her close friends.
Buffy's first brush with the manifestation of fear comes in the first season episode "Nightmares" where a young boy, victim of a brutal beating, is lost in a nightmare world and gradually begins pulling the rest of Sunnydale in with him. From humorous to horrifying, viewers get to peek at the darkest dreams of the Scoobies and many other peripheral characters. For every Cordelia with a bad hair day gag, there is an equally dark moment; one stand out is Buffy greeting her father, only to be told flat out that the cause for her parents' divorce was Buffy herself, and that he didn't see a point in continuing their visits. In the end, the actual physical villain is short work for Buffy, but confronting the basest fears beyond even the monsters she fights nightly is a very dark and very poignant moment for the series.
As the series and its characters grew, so did their fears, and this was best exemplified in the season four episode "Fear, Itself", when college-age Scoobies are once again made to come face to face with their deepest fears and insecurities. While at first seemingly repetitive, the episode makes an interesting point in how the fears of the feature characters have changed over the years; embarrassments and home and family issues are gone, only to be replaced with the struggles within their own relationships and their changing paths in lives. Much like the "Nightmares" story, it's the journey rather than the destination here. It doesn't matter what is causing their fears to come alive, or how easily it may be defeated, but rather the facing of fear, itself.
It's well understood that Buffy is not like other girls. Unfortunately, she has to face the same day to day doldrums as everyone else. School is an immediate struggle for Buffy as her past academic performance in LA is overshadowed by the downturn in her social status; cut classes, fights and, worst of all, burning down a gymnasium, show up as glaring warning signs on her permanent record. Even with the school librarian on her side, it's a rough road: singled out as the 'weird' girl, accidents involving her increased strength, a bad reputation that followed her from her last school, a new and far more devious principal, even teachers that barely take notice of her when she does well, all coupled with late nights on patrol and the occasional apocalypse to avert. And let's face it: high school can be a bitch even if you're NOT hunting demons and vampires in your down time. The fact that a Slayer should survive her teen years is remarkable; that she should do it while balancing her slaying duties with high school is nothing short of phenomenal.
Quietly skulking and looking something like a fanged Freddy Krueger, Der Kindestod was one of the creepiest-looking Buffy villains every put to film. Its nefarious feeding ritual is even worse: Der Kindestod drained the life from children too ill to fight back and forced to stare at the invisible horror while it killed them. When Buffy winds up in the hospital with a bad case of the same flu afflicting the children of Sunnydale, she glimpses the creeping horror and vows to do her slayer duty and stop it from killing again. However, a childhood trauma she experienced in a hospital makes the Scoobies believe she may just be imagining things. Top it off with the recently turned Angelus turning up at the hospital with Buffy incapacitated, and the odds were stacked against the Slayer in fighting this child-eating monster.
When the vampire Spike turns up in season two of the series, with the clearly unhinged Drusilla on his arm, he presents the first really charismatic vampire villain in the series. The Master had been evil, but his personality hadn't extended much beyond that. Spike was something entirely new: stylishly cruel and totally devoted to his madwoman vampiress. Couple that with a history with Angel's vampire persona and a sizable hit count of two Slayers in his past, Spike was, for lack of a better word, a total badass. Though later seasons defanged the vampire to an intolerable degree, his early appearances made it clear that he was there to cause trouble and wreak a little havoc.
Like Der Kindestod, the Gentlemen are one of the creepiest weekly villains featured on Buffy the Vampire Slayer; eerily floating with gaping grins and intent on stealing the hearts of seven Sunnydale residents, the group is attended by a cadre of straight-jacketed Igor-like lesser demons who do their bidding. Unable to stand the sound of a single human voice, the Gentlemen's arrival is announced by their stealing of the voices of every Sunnydale resident, rendering the town mute and defenseless against them. This leaves Buffy and her team unable to communicate, making their rallying of a defense all the more difficult; it also leaves military man Riley and his Initiative soldiers in the same situation, forcing the revelation of just who he is and what is going on beneath Sunnydale U.
#7: Billy Fordham ("Ford")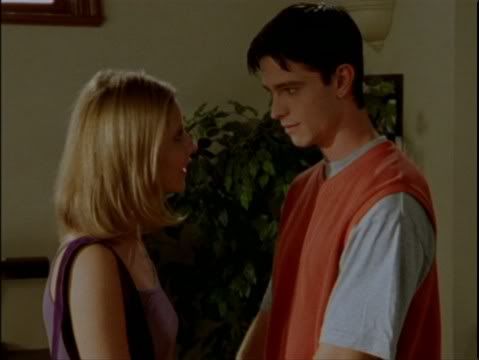 In season two episode "Lie to Me", viewers meet a blast from Buffy's past in the form of guest star Jason Behr's "Ford". A friend and former crush from Buffy's pre-slaying days in LA, Ford arrives in town unexpectedly and brings with him an entirely new problem to face. When it becomes apparent that Ford's intentions are less than honorable towards the Slayer, Buffy faces a reality that she had been blissfully unaware of for some time. As a child of a broken home and newly transplanted to Sunnydale, the pre-slay days of LA, when Buffy was happy, popular and ignorant of her birthright represents the 'what might have been': what her life could have been like had she not discovered the existence of vampires and her role as a Slayer. Buffy often seems to relate her having been activated as a Slayer to her parents' subsequent divorce, and her eventual move. With the arrival of Ford, the illusion of a happy life outside of Sunnydale and its Hellmouth is finally shattered, as Buffy realizes the microcosm of her world can reach beyond the borders of the little California town. Evil, sadness and death extend far beyond the clutches of the vampires and demons; Slayer or not, it would still be able to touch her life.
Where Billy Fordham represented the what might have been of Buffy's past, Faith became the what could have been of her future. In spite of all of the difficulties that Buffy had faced, balancing friends and family alongside the life of the Slayer, Faith made it clear how very much more could have gone wrong. Though not specifically addressed, it is implied that Faith came from a broken, if not outright abusive, home; her Watcher had, as Giles had with Buffy, taken on a special, parental relationship with the girl before being killed. Faith clearly blamed herself for her Watcher's death, and it seemed the pivotal turning point in the downward spiral that would lead Faith to ally herself with the very creatures she had been born to fight. Faith showed Buffy the dangers inherent in the power given Slayers, and became a formidable opponent once having switched sides in the epic battle between good and evil. Though later redeeming herself, Faith showed both Buffy and the viewers how easily a Slayer's life can be wasted and used for evil.
#9: TIE: Eyghon & Zachary Kralik
In a Slayer's life, there is little left to stand stalwart and true outside of her Watcher. When Buffy first met Rupert Giles, she may never have thought he would so quickly become her guiding force and protector, and yet he slipped into that role all too easily. Highly intelligent and well learned in vampire myth and legend, Giles seemed to have all the answers. He was so prim and proper that thoughts of an indecorous past or a future betrayal would seem ludicrous and yet, they both happened.
The demon Eyghon came after Giles with a vengeance in season two episode "The Dark Age". It is here that Buffy learns that Giles is not all that he seems, as he falls apart in the face of his own past mistakes come back to haunt him. Reckless and rebellious, a far younger Giles had played at dark magic with a group of friends, summoning and inadvertently setting loose the demonic Eyghon, who possessed the dead or unconscious and sought revenge on Giles himself. Buffy then had to deal with the fact that Giles wasn't the idealized figure she had assumed, and the reality of human failure was forced into their relationship. In spite of this understandable human failing, they remained close in a pseudo father-daughter relationship, until that trust was irrevocably damaged.
In season three episode "Helpless", Buffy is reaching a pinnacle birthday for a Slayer. There are not many who live to the age of eighteen and the Watcher's Council, the ruling body that oversees Watchers and their Slayers, initiates a rite of passage for the Slayer, to be administered by Giles. Hypnotized by a crystal, Buffy never realizes that her trusted Watcher has been injecting her with muscle relaxants in preparation for a great test: Buffy is to be pitted against a strong psychopathic vampire, all the while without her usual strength. Though her wits help her to prevail, the damage is done. Her trust in Giles is shaken, and her reliance on the Watcher's Council is beginning to unravel. Confronting such a huge betrayal from the one she trusted most for guidance causes more injury to the Slayer than any demonic threat ever could.
Okay, any fan of the show had to see this one coming. Of all the big bads Buffy has faced over the years, the worst of them have always had a personal connection to the Slayer. It was never only about strength; even the best Slayer can be felled by an unremarkable vampire on a bad day. It was the villains best at getting into Buffy's head and damaging her emotional attachments that were always worst on the Slayer, and Angel's transformation back into the evil Angelus was the worst of the lot.
The story is simple and well-known; the vampire Angel, who often assisted Buffy and her Scoobies in taking on the weekly evil, had been cursed by a gypsy tribe with his own soul. The vamps of the Buffyverse were always bereft of human souls, with a demon taking over the flesh left behind: pure evil. With the addition of a human soul, Angel is in torture over what his vampire self had done, and in constant battle to fight the vampiric urges brought on by the demon that still resided within him. When he achieves a single moment of pure happiness, where the guilt of all that his vampire-self had wrought was not foremost on his mind, he loses that soul and reverts to the vampire Angelus, who had been known for his viciousness that went beyond even what was expected from a normal vampire.
Angel had been not only the love of Buffy's teenage life but also representative of her cognitive abilities as a Slayer. Learning of his past, Buffy chooses to retain her trust in Angel and continues to rely on him, in spite of what he had once been. When others (particularly Xander) had questioned his loyalty and motives, Buffy had stuck by her "cradle-robbing creature of the night boyfriend" and, in the long run, was forced to bear the consequence of that decision.
That consequence is the darkest Buffy had ever faced. She'd had to kill vampires she had known as humans before, knowing that the human soul was gone, never to return, and what was left was simply a demon wearing the human shell. Angelus was something different entirely. Evil and fantastically manipulative, he keeps the knowledge of all that had gone on between Buffy and Angel. He knows her strengths and weaknesses, knows exactly which buttons to push to hurt her the most and he relishes the torture.
The greatest challenge come to bear because of Angelus arrives with the demon Acathla. Resurrected and beginning to tear the world into a hell dimension, Angel's soul is restored and he is left unknowing of what is happening around him, when the damage is already done; the only way to prevent the apocalypse this time around is for Buffy to kill him. We already knew that Buffy would sacrifice herself when necessary, as she had faced the Master to avert an apocalypse knowing full well that she was prophesied to die at his hands. But in this instance, Buffy proves that her selflessness extends beyond her own life: she will save the world at the cost of her own happiness, and at the cost of a loved one's life if necessary.