Hollywood has failed us...
The Texas Chainsaw Massacre; Halloween; Friday the 13th. Just what do these films have in common besides yielding three of the top cinematic icons of modern horror? The short and sweet answer: They were independent films. Yeah, that's right. Before they became colossal money-making juggernauts with millions in sequels and merchandising (I'm wearing a Friday the 13th t-shirt as I write this) they were independent films no one had a clue would become the licensing monsters they are today. I know, crazy, right? Read on, Bidites.
Just what is an independent film you ask? Well, let me tell ya, friend. According to Wikipedia, "An independent film, or indie film, is a professional film production resulting in a feature film that is produced mostly or completely outside of the major film studio system. In addition to being produced and distributed by independent entertainment companies, independent films are also produced and/or distributed by subsidiaries of major film studios. Independent films are sometimes distinguishable by their content and style and the way in which the filmmakers' personal artistic vision is realized."
Well there you have it, folks, Wikipedia's definition of an independent film. Now that we got that out of the way, let's get down to the brass tacks at the heart of this here article. One key sentence in that "description" stuck out the most: "Independent films are sometimes distinguishable by their content and style and the way in which the filmmakers' personal artistic vision is realized."
I don't know about you, but I'm sold on the whole filmmakers' personal artistic vision being realized thing. Believe it or not a lot of Tinsel Town directors have good ideas, but there is so much bureaucratic red tape involved in a Hollywood production, the filmmakers' artistic vision becomes so watered-down the final product may no longer be recognizable to them. What makes it to theatres is a compilation of good ideas being crushed under the weight of many bad ones. I get it, millions of dollars are at stake and investors get nervous, but thowing boat-loads of cash at something does not fix the problem (I'm talking to you, Congress!)
Now, like Hollywood productions, Indies are hit and miss. Sometimes they're good, sometimes they're not. It all depends. Most of the time, you don't have outside interference from corporate suits who only think they know how to make a movie or tell a story. That's what movies are, yes? They're live action stories unfolding over the course of 90 to 120 minutes, right? And what drives a good movie is a great story.
In my humblest of humble opinions (playing it safe here) Hollywood has become this great big generic smoke and mirrors spectacle with movies that rely heavily on, well, smoke and mirrors, and little else. Sure, there are big name "talents" in cast and crew, CGI galore, and EXPLOSIONS!!! But these things don't make great movies. Eschewing plot and character development for time-honored tricks, including bigger special effects, the Hollywood machine offers nothing more than bland mash potatoes smothered in the gravy of excess.
More is less.
Big explosions, lavish CGI, and thunderous digital sound to murder your poor eardrums don't make up for cardboard characters and cookie-cutter plot devices (not for me), but that's exactly what you'll find these days when paying nine Washingtons for a Hollywood movie ticket. I may seem like I'm bitching for the sake of bitching, but I like a little substance to my cinematic-going experiences, don't you? When I left the theatre after paying my hard-earned cash to see "A Nightmare on Elm Street" remake my fists were clenched and I felt a little cheated. Maybe I take my movies way too seriously.
Maybe some people don't take their movies seriously enough.
The original Nightmare on Elm Street is a rare example of Hollywood lightning in a bottle. It was a Hollywood production for the then fledgling company New Line Cinema, replete with "studio" interference. Maybe it was for the better, but in this case, the film worked and has become a beloved classic. Rarely (again, in my humble opinion) has this happened since.
Maybe my expectations are set way too high. Maybe.
Let's face it. Hollywood suit and ties don't really consider the horror fan, just his/her wallet. A lot of Independent films reflect the filmmakers' love for the genre, a love shared by legions of fans across the globe. These guys seem to get it. Give audiences a good story and the film leaves an impact. I don't typically buy a DVD unless I'm going to watch the movie again and again. More often than not, if I see a mediocre Hollywood flick in theatres, I won't even bother renting the DVD. When it comes to an Indie feature, I'll research the hell out of it, read a few reviews, and, if more people like it than not, I'll check it out.
Maybe I'm blindly trying to recapture my childhood movie-watching experience, when everything was new and unbelievably awesome to me, but I tend to think that bit of cinematic magic still exists. Just check out "Hobo with a Shotgun", an independent film with special effects AND substance. Imagine that.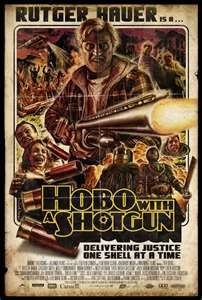 I'm not trying to tell anyone to stop watching Hollywood productions. Not at all. I won't stop watching them. I keep watching in the hopes that one in five movies will be a diamond in the rough, but more and more it's looking like I have to watch a lot more than that to get to the goods. All I'm saying is, if you're anything like me, and want more bang for your buck in the form of good characters and good story-telling, looking to Hollywood is like looking for congress to agree on budget cuts: It ain't gonna happen anytime soon, I'm afraid.
The flimmakers behind the well-reviewed "Behind the Mask: The Rise of Leslie Vernon" have launched a real grass-roots campaign to finance the sequel "Before the Mask: The Return of Leslie Vernon" seeking the fans' assistance in raising money for the film. If you're interested in really supporting Indie Horror go to
http://www.facebook.com/BeforeTheMask
No kind of filmmaking is perfect, not even Indie films, but more often than not, I've been pleasantly surprised more so by the Indie circuit than Big Hollywood, and that's no longer surprising to me. A lot of these movies have style and substance (oh, there are more than a few that don't), but half the fun is in the search. So, look to the Indie circuit for an often better movie experience and support Indie Horror…
…or else.
TVM :JGTH: