Hey gang! It's becoming closer and closer to that time of year: Christmas! Let's meditate on the concept of Christmas for a moment. Ready? Alright, close your eyes. Keep 'em closed now, no peeking! I mean it! There's a crazy, white haired, bearded fat motherfucker that knows when you're asleep! And he's got elves. Keep that in mind!! Alright, here we go: Wow. Even better than last year! Look at that ornate tree, it's like a humongous green every-color-connect-the-dots! It's a paragon of peace on earth, good will towards man! And oh, what's that? I can almost smell the Christmas turkey! And the fragrance of...what is that? Could that be spiced cider? Spiked with Christmas Cheer (booze)? Holy canoli! And here, come along gang! Look out that window! It's going to be a white Christmas after all!
And meanwhile in the workshop, Santa's got his sleeves rolled up, sweat on his brow; he has flipped the switch on his Christmas Machine; the elves have been pulling double duty, busy all year 'round, making Christmas cheer and toys for all the good little girls and boys. About to fill up the sleigh now with a 'Ho Ho Ho!' and a 'Fa la la!'! On Dasher! On Dancer, on Prancer, and Vixen! Merry Christmas to all, and to all a good night!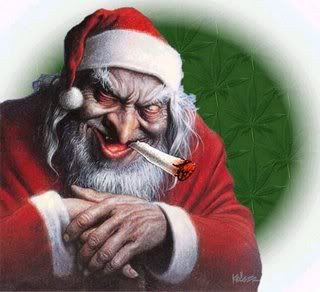 Now, I painted you that picture to paint you this one: Imagine that same scene on crack. That's right, everyone's on crack and it's now become a total Christmas Nightmare with a zombie apocalypse underway, written by some extremely hilariously twisted individuals. And there you have it:
The Last Christmas
.
This Graphic Novel (2006), at 179 pages paints the most demented and hilarious portrayal of Christmas I have ever read in my entire life. Written by
Brian Posehn
(Comedians of Comedy) and
Gerry Duggan
(Infinite Horizon), inked by
Rick Remender
(Various comics: Punisher, Uncanny X-Force). The illustrations are beautiful dystopian disparity. The dialogue is genius, and the story is absolutely hilarious. Think
'Hobo With a Shotgun'
meets
'Santa Claus Conquers the Martians'
. With a heavy dose of
'Resident Evil'
. And crack.
The story has to be read to be believed, it's pure AWESOMENESS. It's the Zombie Apocalypse, and everyone is bat-shit crazy. Roving gangs of marauders and renegades are on the loose pillaging, raping and...well making victims out of the few innocent people who are left. They've all made Santa's Naughty List, that's for sure! They made their way to the North Pole and murdered Mrs. Claus and most of the elves, and reindeer leaving Santa a raging alcoholic, completely depressed and in despair. He tries to drown his sorrows in bottle upon bottle of booze, to no avail. He's tried to kill himself dozens of times, and that hasn't worked because he's immortal as long as there is still someone who believes in him and the spirit of Christmas.
And that's when he decides to take action. Somewhere on the planet is a good little boy who still has hope and believes in Santa Claus. Santa turns what's left of his workshop into a weapons manufacturing plant and arms himself "Punisher Style" in order to not only get revenge for his slain wife, but to hunt down the little boy whose belief is stopping him from being able to kill himself. It's totally fucking crazy and hilariously over the top.
If you want to treat yourself to a holiday gift, do yourself a favor: BUY THIS GRAPHIC NOVEL! And have yourselves a very demented Merry Christmas! (pics below)